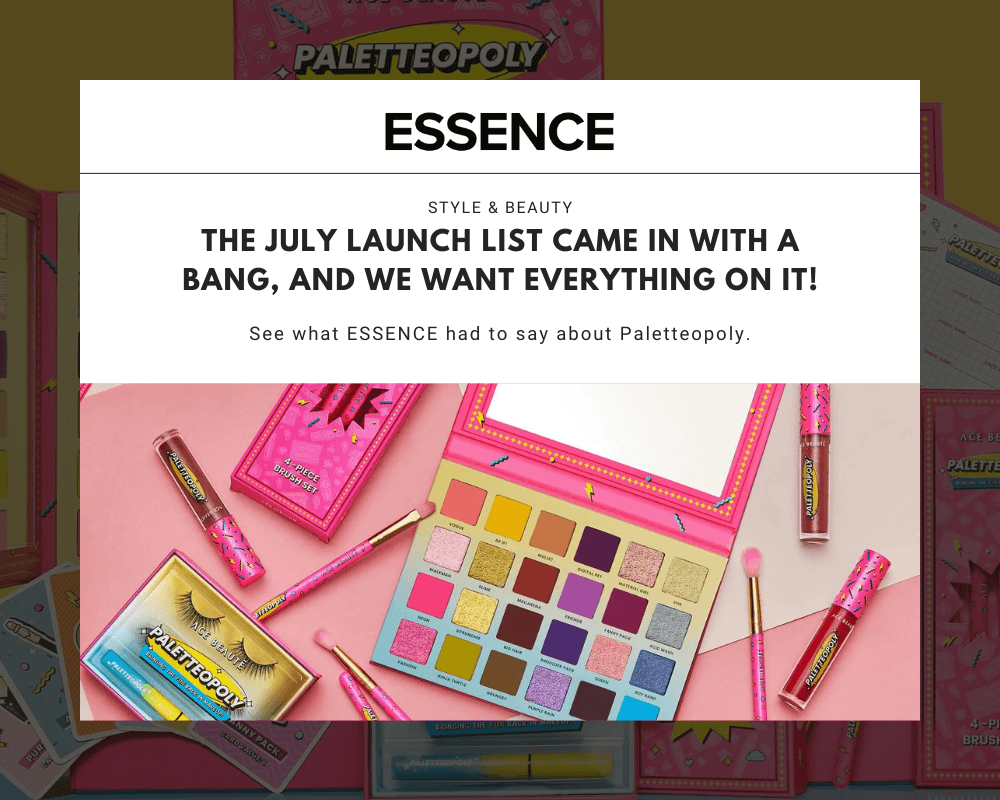 Ace Beauté is an Essence Favorite!
Hey Essence, you rang? Hold the phone because this feature is one for the books! We are absolutely thrilled to have been featured in Essence! Yeah, you read that right! In Essence's summer wish list, 40 skincare and makeup products were carefully chosen as the most exciting launches of the season. Who would have guessed that Paletteopoly would make the list? (Okay, maybe we crossed our fingers and wished on a few stars).
"Paletteopoly will help you be your most creative self! A matching card game based on your winning cards and the corresponding hue in the eyeshadow palette, this game generates your upcoming cosmetics style. Play by yourself or with pals, and in less than 60 seconds, you'll be astounded by the countless looks Paletteopoly can help you create."
Since Paletteopoly is the newest member of the Ace Beauté family, we are absolutely honored that it is receiving such high praise and recognition. We wanted nothing more than to put the fun back in makeup, and it seems that our dream is coming true.
Makeup is a form of self-expression and isn't meant to conform to a standard. This collection offers not only an endless combination of gorgeous looks, but also allows our creativity to shine.
What's included in the 
Paletteopoly
Full Collection:
One 24 Color Eyeshadow Palette
24 Playing Cards
1 Notepad
2 Pencils
Eye Card Reference Sheet
4 Piece Eyeshadow Brush Set
1 Magnetic Lashes Kit (includes a Natural (Baby Doll) and Full Glam (XTRA) style PLUS the Magnetic Liner Glue Pen)
3 velvety Mousse Liquid Lipsticks (Teddy, Polly & Strawberry Shortcake)
1 Non-Sticky Lip Gloss (Hologram)
Moments like these are what drive us to develop products that not only help others embrace their beauté but also feel good in their skin. You can read the full article by clicking the link: Essence.
Shop the Blog