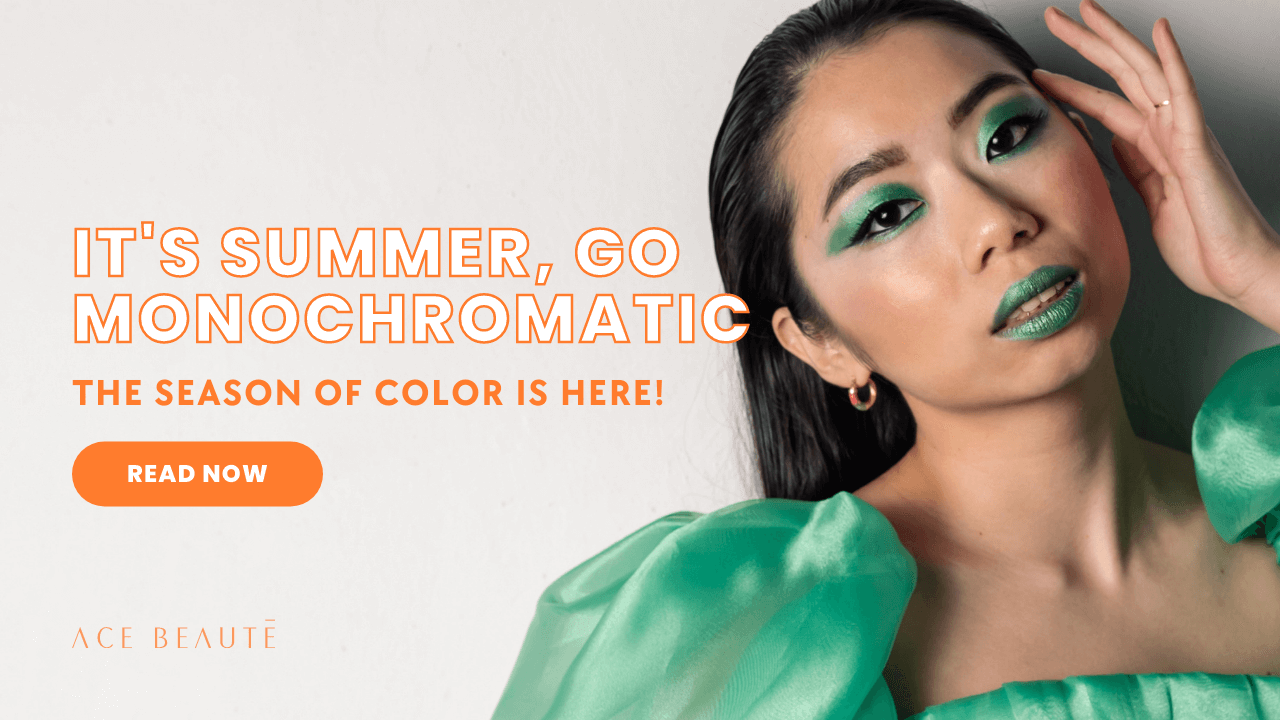 It's Summer, Go Monochromatic
Summer is often the season of color, so if there was ever a time to play with color, the time is now! Additionally, we hear a touch of color can have profoundly positive effects on your soul. 😉 So, in the spirit of color, let's talk about monochromatic makeup looks and tell you how you can achieve this style!
What is Monochromatic Makeup?
When you use a monochromatic makeup style, your cheeks, lips, and eyelids all have the same color. If we were to create a look based on the color pink, we would apply this color to the entire face. To achieve the desired look, you would use different finishes and products. For instance, a matte lip product, creamy bronzer, and glimmer/shimmer eyeshadows.
The secret to mastering monochromatic makeup looks is to stick to similar shades and have fun with different textures! What we like most is you only need a couple of products to create a monochromatic look! Plus, the creation and execution of monochromatic looks are both easy to pull off. You can get super creative and even use just one product!
Here are three monochrome makeup styles to try this summer. (We also made it simple by incorporating some of our favorite Ace Beauté products to help create the look!) Now, to get into it:
1. Skies in your Eyes - a one-color statement!
You only need one color to create this look. #SCORE Dip into the shade Bluebell from the Slice of Paradise Palette for this look. Use a blending brush to apply shadow to your eyelid and lower lash line. Since your eye look is so bold, finish the look with Merille Magnetic Lashes for a natural lash effect, and pamper your lips with Pout Perfect Lip Gloss in color Spot On for a subtle sparkle. And presto, finished!
2. Golden as the Sun - a natural glow with a pop!
For the following monochromatic look, use the Floral Vintage Palette. Apply the shade Spray Rose all over your eyelids, blending up to the crease and stopping below your brow bone. Using a flat brush or your finger, add Golden Orchid from your inner corner to the center of your lids to give your eyes a little extra pop. Next, use Daffodil on your lower lash line for a lovely contrast. Finish the look with Athena Magnetic Lashes for a casual lash, and give your lips a treat with Manifest from the Pout Perfect Liquid Lipstick collection for a golden sheen. Boom, that's it!
3. Girl on Fire - turning up the heat!
Whether Alicia Keys or Hunger Games is the vibe, this monochrome look will have people turning heads! For the last look, you will be creating a smokey eye with the Flair Palette! Starting with your eyelids, apply Pumpkin first, then Hazelnut to the outer corners to create the smokey effect. Using a blending brush, blend as needed, as this will be key to your smokey eye. Wipe away excess color to get the desired shape. Lastly, use Firefly or Biscotti on the cheekbones for a colorful highlight! To complete the look, apply Tiff Magnetic Lashes to your lashes for a natural effect and Pout Perfect Liquid Lipstick in color Applause to your lips. Done, that's all!
And there you have it; three stunning, daring, and easy-to-create monochromatic looks for summer!