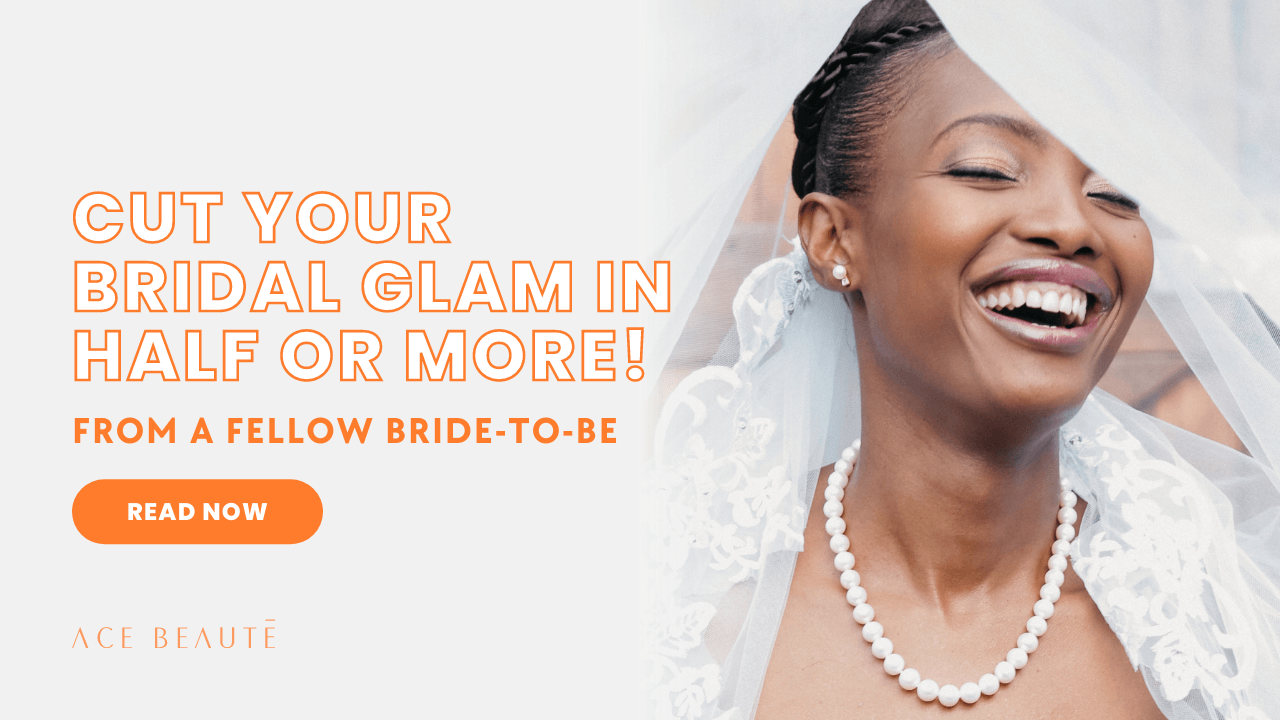 Cut Your Bridal Glam In Half (or more!)
Weddings are one of the most exciting (if not THE BEST) events in our lives, but with everything that goes into them; planning, finding a location, sending out invitations, expenses are everywhere. A couple must carefully plan and allocate their finances. Whether you're a guest, part of one, or planning a wedding, this tip will help you save money. It is simple, beneficial, and won't affect the style you wish to accomplish. It's the ultimate in being stylish while staying inside your budget!
My name is Linette, and I work as the marketing coordinator at Ace Beauté. We thought this topic was ideal for me because I'm getting married this summer. *cue the wedding bells!*
Right now, I'm juggling all the wedding-related drama, like dealing with vendors, photographers, and, of course, my makeup artist on the big day.
One way I plan on saving $$ (my ultimate hack) is ditching lash extensions and getting glammed up with [MAGNETIC LASHES.] In doing this, I am saving time and money that I can spend on other things. I won't need to pay for extensions or worry about my lashes falling out mid-reception.
Using magnetic lashes for a wedding has several advantages. My favorite, you can alter the style based on the event you're attending! With extensions, you keep the same look for several weeks, and your lashes can fall out by the time of your event. On the other hand, with magnetic lashes, you will have time to change and wear any style you like! Whether it's to an engagement party, a photo shoot, or the big day. Ace Beauté offers a variety of looks, from subtle for the wedding day to dramatic for the bachelorette party or casual for the bridal shower. Because magnetic lashes are so simple to apply, you can confidently wear any style.
Let's now discuss the costs. Extensions cost between $80-$100, but if you're a bride, you'll need to spend double that because you'll need a trial run to ensure the style fits you perfectly! ($160-$200) Trial and error will only increase the price, so let's not go there. If you don't prepare properly, you might need to return for a touch-up because extensions only last a few weeks. (Hello, additional fees!) Moving on to the makeup artist. Depending on the number of trial sessions, makeup artists cost $200 to $400. TIP ALERT!! Schedule your trial on the same day as your engagement shoot, another money-saving hack.
Last but not least, if you wear magnetic lashes once a day for two months, you can wear them up to 60 times. Ace Beauté magnetic lashes have 12 micro-sized magnets on each lash band and, unlike other brands, include magnetic liner! You can instantly brighten your eyes with our magnetic lashes, which are comfortable to wear and easy to apply.
To summarize:


Each set of Ace Beauté Magnetic Lashes costs $30, or $0.50 per wear over TWO MONTHS
Two months' worth of extensions costs around $400, making each wear about $7
For one look, a makeup artist charges between $80-$100
Bonus tip! Ask your MUA to use magnetic lashes to prevent the corner of your lashes from lifting during the big day. You'll already have the magnetic liner, so you won't need to learn how to apply lash glue.