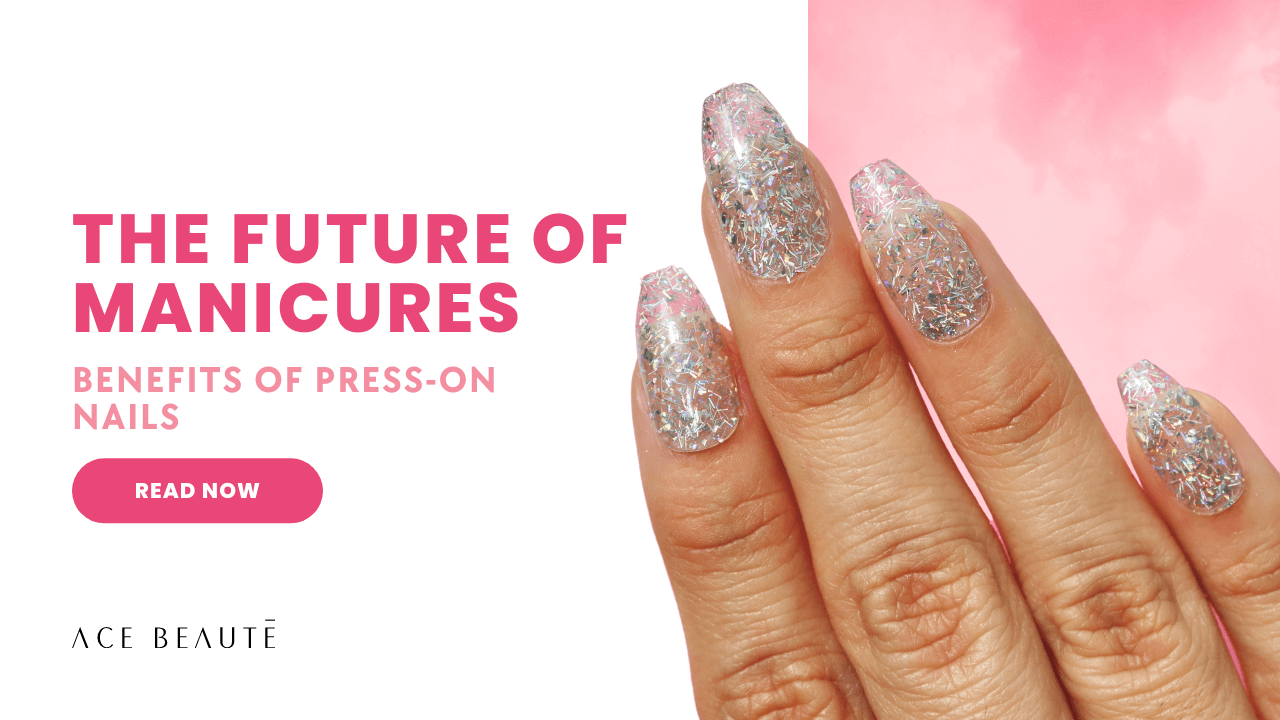 Benefits of Press-On Nails
Couture nails are the latest trend to hit the mainstream. Donut nails, Hailey Bieber nails, and Swirl nails are just a few of the explosive designs to hit feeds this year. So, how can you achieve these trendy, luxe manicures without breaking the bank (or your natural nails)?
This is where we introduce you to press-on nails.
What are Press-on Nails?
If you're unfamiliar with press-ons, no worries. Press-on nails are artificial nails that can be adhered to natural nails with specialized nail glue or high-strength nail sticker tabs.
How to Apply Press-on Nails
Start by washing your hands thoroughly to remove any dirt and oil from the nail bed. Then, remove any existing manicure with a nail polish remover. Use a cuticle stick to push back cuticles, which encourages longer wear time.
Gently buff natural nails and clean with rubbing alcohol before filing down the natural nail.
Match the press-on nail sizes to your natural nails. Ideally, the nail you choose should cover the entire natural nail bed. 
Using Glue:
Add a small dot of glue to the center of your nail and the center of the press-on nail
Allow to dry about 10 seconds or until tacky
Align press-on nails with your cuticle and press on the entire nail firmly
Hold for 10-20 seconds until dry
Using Tabs:
Place an appropriately sized tab on your nail bed
Align press-on nails with your cuticle and press on the entire nail firmly
Hold for 30 seconds
File or clip press-on nails to change length and shape if desired.
Tip: For short-term wear, use included nail adhesive tabs and for long-term wear, use nail glue.
What are the Benefits of Wearing Press-on Nails?
Let's talk versatility. Aside from being the more affordable option, press-on nails are easy to apply and remove. That means you can skip the line at the salon and the hour long service for a home manicure that looks just as good if not better. Freeing up all that time combined with the ease of application and removal means you can change your nails daily if you really want to show out.
Press-on nails from Ace Beauté are also completely safe, made with non-toxic ingredients, and 100% cruelty-free. No need to worry about maintaining your manicure either, since press-on nails don't chip and are reusable.
Ace Beauté has three press-on styles to choose from: Cotton Candy, Funnel Cake, and the Pixie Dust Luxe Manicure. Each kit contains 24 nails, liquid glue, adhesive glue tabs, a nail file, and a cuticle stick.
Shop the Blog