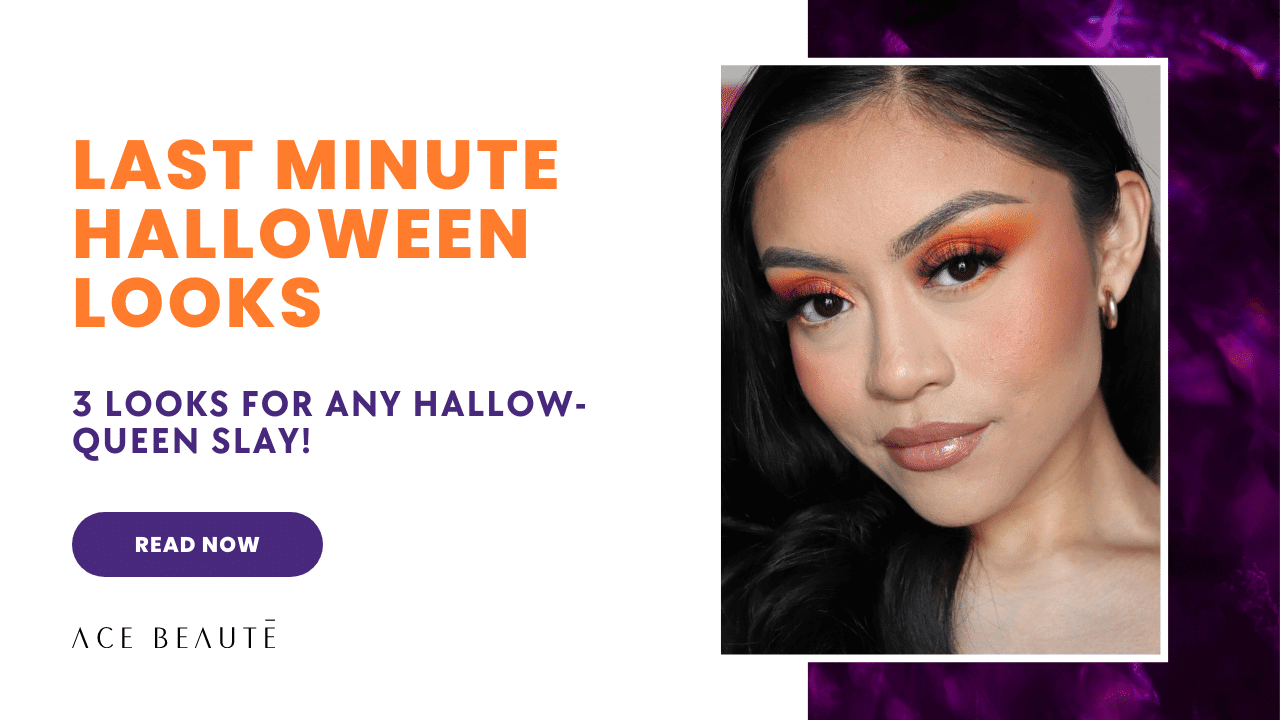 3 Last Minute Halloween Looks Using the Flair Palette
Hello Spooky Season! Though costumes usually steal the spotlight on Halloween night, we are hyping up makeup looks that'll give everyone pumpkin to talk about (See what I did there?). 
If you're looking for hair-raising inspo, you've come to the right place. Check out these 3 easy Halloween Glam looks anyone can rock.
Pumpkin Spice
I don't care what anyone says, Pumpkin Spice is anything but basic. Most people associate pumpkins with big, round, and orange. They aren't wrong, but why not use those descriptions to your advantage? Enhance large, doe eyes with autumnal orange shades that intensify your fiery Halloween spirit. 
Using the Flair palette, apply the shade "Hazelnut" to the lid and blend upwards towards the tail of your brow for a cat-eye effect.

With the shade "Pumpkin", blend out the edges of the previous shade for a glowing gradient effect. 

To top it all off, apply "Firefly" to the inner corner with a finger or damp brush to amplify that foiled look! 
Floral Nymph
Let's show these witches some real magic. We all remember the classic fairy nymph costume: little wire wings, a glittery pink tutu, bobbling antennae on springs, and a plastic wand boasting one heck of a battery-powered star.
Relive the nostalgia and embrace your inner fairy with this epic floral nymph look!
Pack the shade "Mirage" onto your lids and use the shade "Saffron" as your transition from lid to brow. Be sure to blend it out well for a smokey effect.

For a mystical ombre look, begin at the outer corner to line your lower lash line with "Aubergine", followed by the orangey "Saffron", then top it off with "Cider".  
Ghoul-power Chic
I'm over it, okay? People are always fawning over new-age vampires, but we're going to prove that old school ghouls can be hot too! Green tends to scare people away since it's a bold, vibrant color. I say we use that to our advantage to create a statement look that will turn heads all night. 
Pack the shade "Moss" into your crease. Do your best to avoid getting any on your eyelid. If you do, don't panic. You can clean up your lines later.

Next, use the shade "Cider" as a transition shade to buff out the green for a beautiful ombre effect.

For some additional depth, slowly build up the shade "Acorn" near the outer corner of the eye for a faux wing effect.

Once you've finished, use your concealer of choice to clean up the lines around your eyelid.
Voilà! A green ghoul masterpiece. 
Tag your last-minute Halloween makeup looks to @acebeaute on IG and tiktok!
SHOP THE BLOG