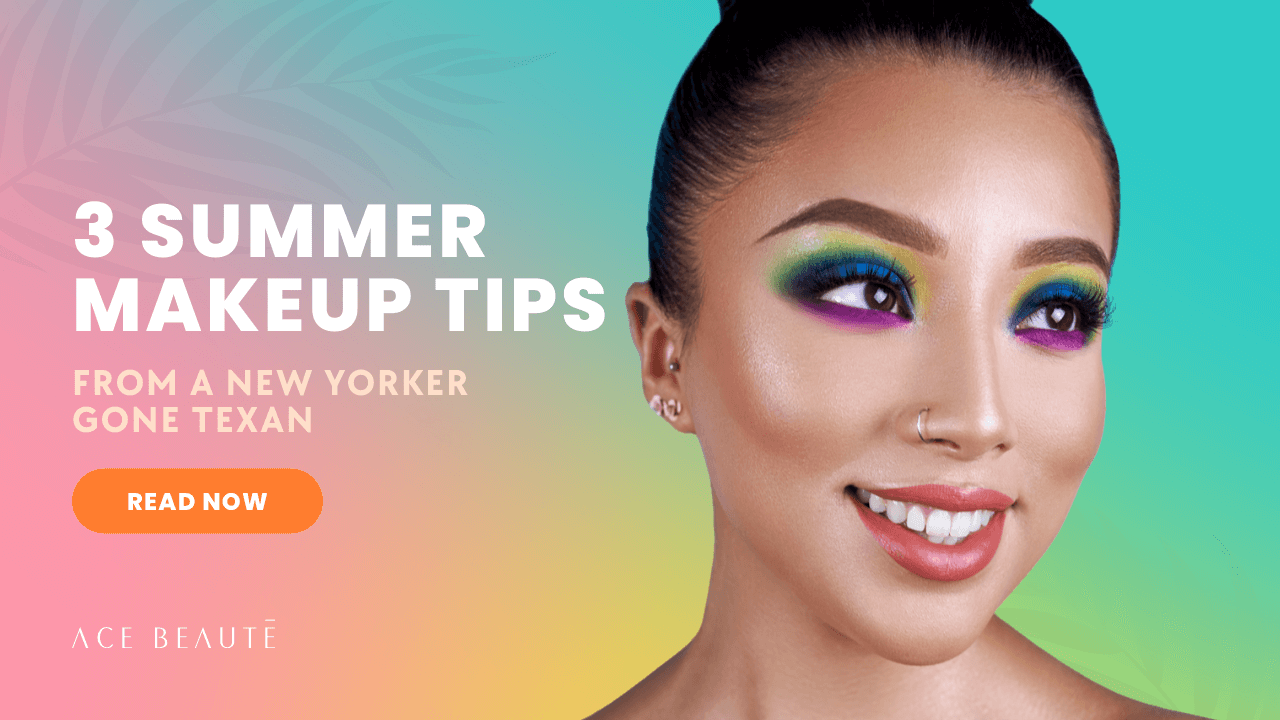 3 Summer Makeup Tips from a New Yorker Gone Texan
Summer is always going to be hot, no matter where you are. Whether you're going to Coney Island, Galveston, or Santa Monica Beach - the heat is always going to try to do one thing: ruin your makeup. You get sweaty here and there, your makeup's either cakey or gone, mascara is smudged and even your lips chapped. And we don't need that kind of energy! How are we supposed to take fire pictures and videos for our socials if we look like a hot (pun intended) mess? We don't want the sun to kiss our foundation goodbye because we know that makeup is more than just painting faces. It takes effort and practice to achieve that perfect look. It takes creativity to apply that vibrant eyeshadow and it takes patience to seamlessly blend that concealer. The weather can sometimes become our face's enemy, but as a New Yorker gone Texan, I got you with all the tips you need to make sure you stay looking fire all day long.
#1 Opposite textures attract!
Have you ever wondered why your makeup feels dry and cakey or oily and shiny? Let's rewind and go back to step numero uno, your base! In order to prep your base for perfect application, the texture of the foundation should be opposite to your sunscreen. Why is this important?
If you are a through and through matte-finish kind of beautie, we know it's tempting to pick up your matte-finish sunscreen before your matte foundation - but don't do it to yourself!
Matte foundations are usually a heavier full coverage and tend to make your skin feel dry to ensure you don't get oily throughout the day, but combining it with another matte finish would only result in more dryness and therefore amplifying fine lines and pores. Instead, opt for a sunscreen with a hydrating finish.
On the other hand, dewy foundations tend to offer light coverage and lightweight texture, using the same sunscreen texture would result in you becoming an oily mess by the time lunchtime comes around.
Opposite textures create the balance your skin and makeup need. Matte foundation complements dewy, moisturizing sunscreen. Dewy foundation works well with matte finish sunscreen. Face done.
#2 Magnetic Switch
Here's a story we all probably know too well; you're out and about, having a great time, and you made a pit bathroom stop and looked in the mirror... Enter the horror look on your face as you see yourself in the mirror with mascara smudged under your eyes. You try to fix the mess and do what any normal person would do. You swipe it the way you do your Tinder matches, but then… your concealer is gone. As if it couldn't get worse, you reapply the concealer but it isn't blending with your foundation, and you forgot your blush and bronzer at home.
We get it. I get it. Let's rewind again and go back to the first step - your smudged mascara ruining it for everyone. It's time to make the switch to magnetic lashes.
Magnetic lashes are faux lashes that stick to your magnetic liner through innovative magnet technology. They are mess-free, safe, and 100% reusable. By using magnetic lashes, you don't have to go through all that hassle of trying to clean mascara runs and even deal with the confusing and harsh glue of most false eyelashes. Magnetic lashes are simple and effective and you're investing to never have to go through that WHOLE ordeal.
#3 Spray to stay
If you're a Texan native you know, the sun and heat is here to stay for an unnaturally long time in the calendar year, and if you're not taking the right steps, your makeup isn't lasting that long. The sun and humidity have one job, and it's to fade your look. If your makeup isn't lasting, you're probably missing a crucial last step: setting spray. If you haven't got this yet, and you've made the move to the south, you should probably add this to your cart immediately. It's the holy grail item used to make sure you stay intact all day long, no matter the ridiculously high temperature you're facing.
Setting sprays are liquid mists that prolong the life of your makeup by helping it stay intact. It's the extra barrier that locks your makeup and prevents it from fading, cracking, and melting, even if those are all the adjectives you feel on the inside from being outside for too long. It ensures that the products you use are in place and aren't moving. This way, you won't have to reapply as much throughout the day. Whether you're going out during the day or night, setting sprays can be your new best friend as it is absolutely effective for long-lasting makeup.
Bonus Tip:
To achieve that seamless finish, when applying creams whether it's a skincare product or makeup, always go in one direction. This way, you aren't creating extra layers on your face that make your makeup look uneven.