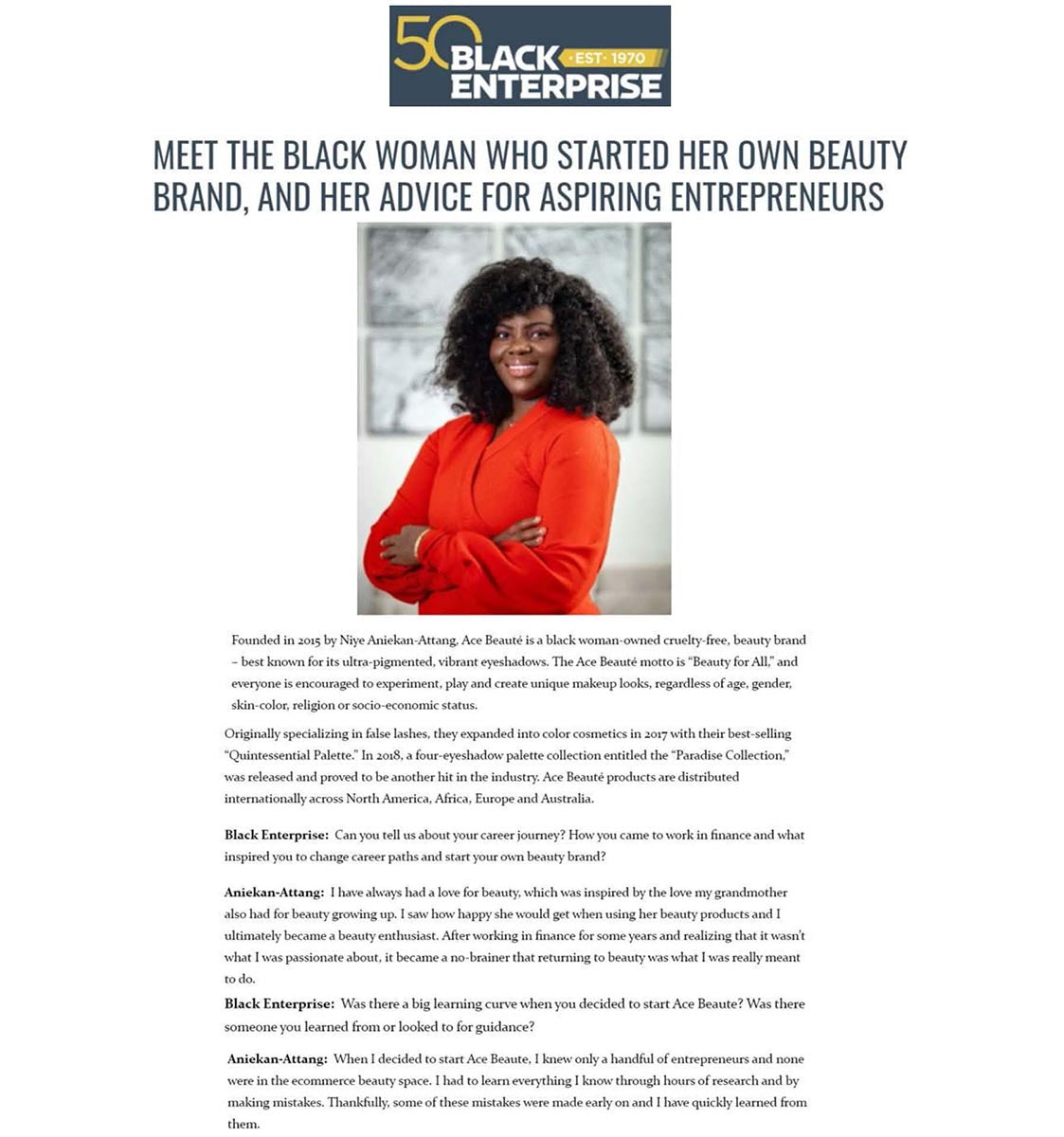 Black Enterprise

Founded in 2015 by Niye Aniekan-Attang, Ace Beauté is a black woman-owned cruelty-free, beauty brand – best known for its ultra-pigmented, vibrant eyeshadows. The Ace Beauté motto is "Beauty for All," and everyone is encouraged to experiment, play and create unique makeup looks, regardless of age, gender, skin-color, religion or socio-economic status.
Originally specializing in false lashes, they expanded into color cosmetics in 2017 with their best-selling "Quintessential Palette." In 2018, a four-eyeshadow palette collection entitled the "Paradise Collection," was released and proved to be another hit in the industry. Ace Beauté products are distributed internationally across North America, Africa, Europe and Australia.
Black Enterprise: Can you tell us about your career journey? How you came to work in finance and what inspired you to change career paths and start your own beauty brand?
Aniekan-Attang: I have always had a love for beauty, which was inspired by the love my grandmother also had for beauty growing up. I saw how happy she would get when using her beauty products and I ultimately became a beauty enthusiast. After working in finance for some years and realizing that it wasn't what I was passionate about, it became a no-brainer that returning to beauty was what I was really meant to do.
Black Enterprise: Was there a big learning curve when you decided to start Ace Beaute? Was there someone you learned from or looked to for guidance?
Aniekan-Attang: When I decided to start Ace Beaute, I knew only a handful of entrepreneurs and none were in the ecommerce beauty space. I had to learn everything I know through hours of research and by making mistakes. Thankfully, some of these mistakes were made early on and I have quickly learned from them.
Black Enterprise: How many SKUS did you start with and how quickly did that expand?
Aniekan-Attang: We started with 10 styles of lashes and only a few quantities of each style. As people caught on to the brand via social media, the demand for our lashes increased and at one point we carried about 25 different lash styles. It was then that we decided to expand our product offerings.
Black Enterprise: Ace Beaute has quite a loyal customer base and following on social. Do you have any advice for aspiring beauty entrepreneurs?
Aniekan-Attang: Don't get distracted by what others might be doing. Stay focused on your goal, stay positive, repeat positive affirmations to yourself at all times and work hard.
Black Enterprise: Can you tell us what's next for Ace Beaute?
Aniekan-Attang: We have a lot of new and innovative product launches being developed and hope to start rolling those out toward the end of the year. [1]